Discover: Bucketfeet - Artist Designed Footwear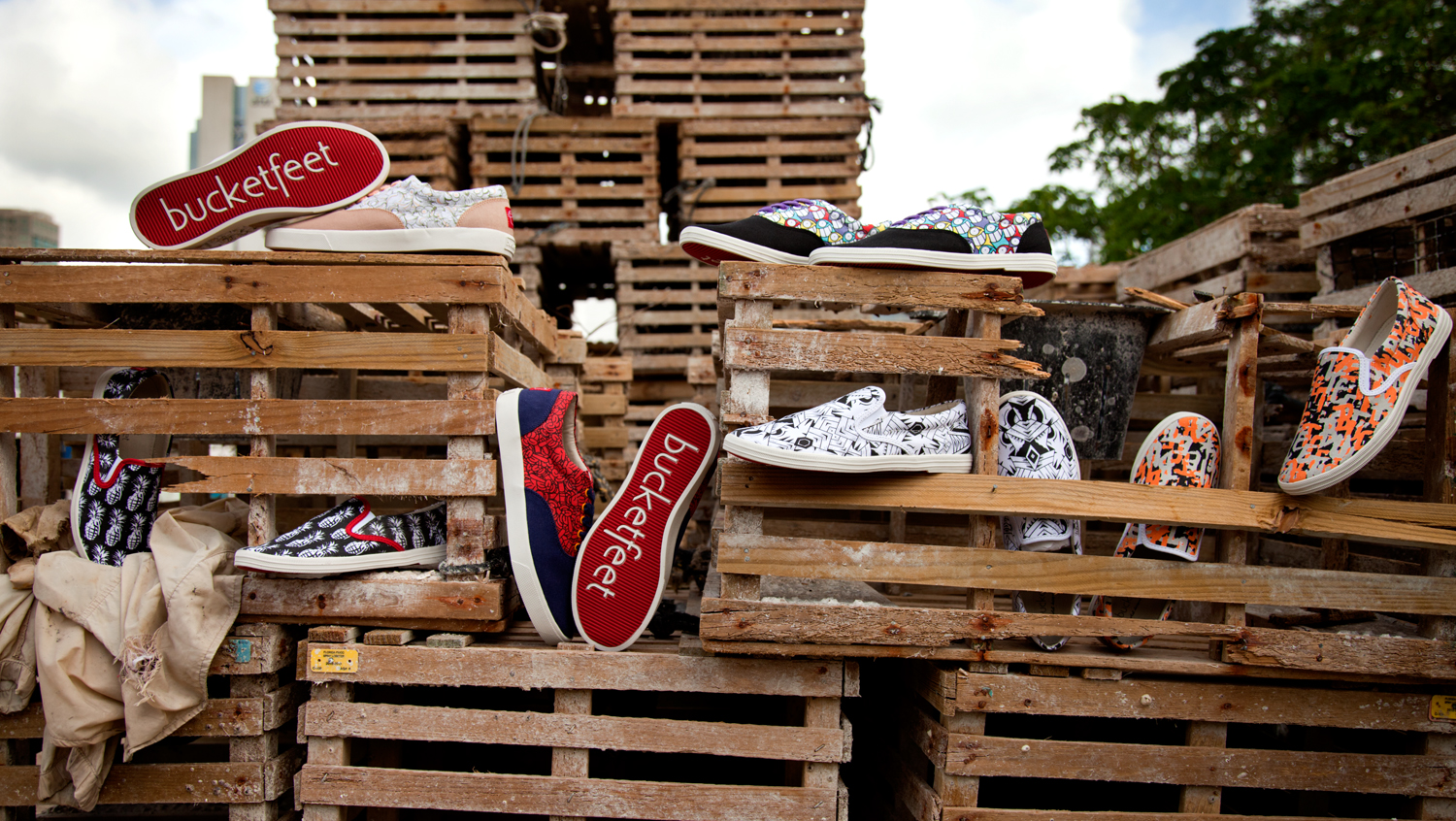 Recently I was put on to a sneaker brand doing really great things, BucketFeet! BucketFeet gives artists a platform to connect with people and showcase their work in a new way... Shoes! I got to speak with Aaron, one of the co-founders and the creative side of the brand, and I may have asked too many questions but I was super curious!
So in 2006, Aaron customized sneakers during his college days in Oregon, and gained a bit of a following on facebook. After college, he traveled to Buenos Aires, Argentina, and other areas of South America to learn spanish, enjoy his youth, and just figure out what to do (not too shabby, eh?). It was during his travels when he met a new friend, Raaja, who ended up buying one of Aaron's customized pairs, and later became a co-founder of BucketFeet.
Later in Aaron's travels in Rio, he was exposed to tons of great graffiti art in bad communities while documenting a photo project. With this artwork in mind, and Raaja wanting to start a new and different project as well, the duo teamed up to start a new sneaker company that later became BucketFeet!
What makes them different? Each shoe is designed by a different inspirational artist from around the world; Nigeria, Denmark, UK, Spain, Japan, and more coming worldwide! There is a direct connection from the artist to that someone wearing the shoes. It's like Aaron says, "Look there is some really creative person in the world that specifically created this artwork you're wearing." So for me, I see it as a collector's item, something special, and that is so awesome.
I chose the Desert Low style because I loved the off-white simple, classic look with the fun pattern on the tongue. They are super comfy and fun to wear. All designs are also made separately for males and females to better fit your foot. Click on the photos to the left for a slideshow and see all the small details, like the artwork in the box, the bag, the artist info, the shoe sole, so much greatness! You can check out other great styles at BucketFeet.com. This brand is doing great things with a product we have all come to love so much, and in a meaningful way, too. What's not to love?
Oh and before I forget! I could have never guessed the reason for the name BucketFeet if I tried. Turns out, "Bucket" was Aaron's nickname in college for absolutely no reason at all (personally I'm guessing it came about in a drunken college night of stupor, lol). The name stuck, Aaron embraced it, and the rest is history :) LOL!