All I Want For My Birthday.... Is A Donation to Soles4Souls!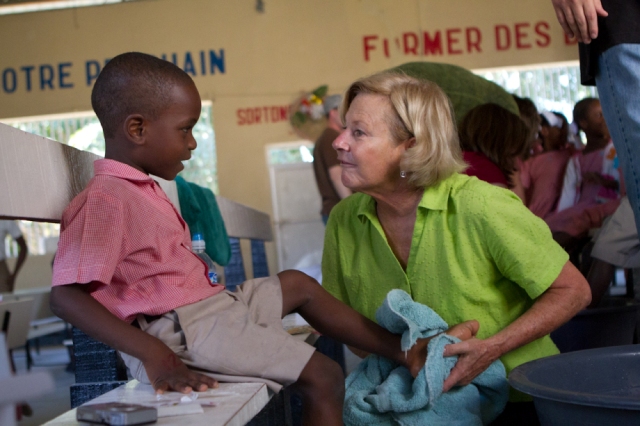 Happy Birthday to me! I want to thank all my family and friends for making this year such a wonderful one, and encouraging me to follow my dreams and start this footwear blog. And for this I would like to thank all my readers and fans that support me every day! All of you are like mini puzzle pieces that form to make me love what I do so much!
This year I want to continue to complete my goal of fundraising money for Soles4Souls so that I can travel to Haiti and volunteer to help clean dirty, hurt, tender little feet and provide shoes to so many children that are without even one pair to protect their feet. Did you know many kids are not allowed to attend school if they are not wearing shoes? It makes me think how blessed I am for the life I have, and that it would be my pleasure and honor to help these kids have a pair of shoes of their own, to get an education and be their best.
So, to celebrate my birthday, please make a donation of any amount to soles4souls at my profile link here. Your donations will not go unnoticed.
Thank you all! I love you all and wish the best for everyone :)
Big hugs, Tina
From my profile:
"I have had a love affair with shoes for as long as I can remember, so it is no surprise I am surrounded by footwear as a lifestyle and career now. We see so much creativity in the footwear world these days, and many of us are keen to collect and build our daily options. It's hard to believe that with the plethora of options we are able to provide ourselves these days, there are many out there in the world with not even one pair to use. Some are even making protection for their feet with whatever scraps of mother nature they can find to tie up over their foot.
I started this fundraiser when I ran the 2012 LA Marathon earlier this year, and now I would like to continue to reach my $2200 goal for my birthday! So for my birthday this year (Dec. 19) I would like to raise some awareness and money for a cause I truly am a fan of.
Your donations (of any amount!) will not only be a huge contribution to kids all around the world, but will allow me to travel to Haiti and help kids in need first hand.
Those who know me well know that I have a huge love and affection for all kids, growing up working with them for most my life, so there is nothing I would love more then to see underprivileged kids be able to experience the same joy that I do by receiving a pair of kicks!
All your donations are tax deductible, and my promise to you is to come back and have a full report with stories and photos, too! :)
Thank you for helping me hand-deliver HOPE to children all over the world! This is the best birthday gift I could ever ask for!
Big hugs, Tina"